KBHV(veteran)-13-14 Herbst(veteran) Sg-13 BDSG(veteran)-12-13 SV-09 VEUW-08 VWW-08-09-10-11 KBHV-07 Verbandssg-02 BroV-02 Landes-Sg-01 Bd(jgd)sg-00 DK(veteran) CH H(veteran) CH VDH(veteran) CH DE(veteran)CH CIB DE CH VDH CH SE CH DK CH FI CH
Hardy-Flap's When Trumpets Fade
(NO CH SE CH FI CH Petit Ami's Pacemaker x Landes-Sg-98-99 VDH-Sg-97 German(veteran)CH CIB VDH CH DE CH DK CH SE CH Chonfri's Lady MacBeth By Shakespeare)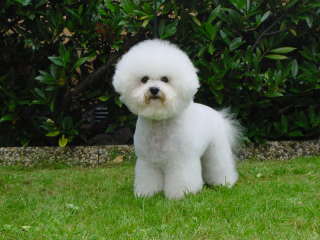 born: 991120

Qualifications: Copenhagen winner(veteran)-13-14, Herbst(veteran) Sieger-13, Bundessieger(veteran)-12-13, Swedish Winner-09, European(veteran) Winner-08, World(veteran) Winner-08-09-10-11, Copenhagen Winner-07, Verbandssieger-02, Bro Vinnare-02, Landes-Sieger Schleswig-Holstein-01 and Deutscher Bundes(jugend)sieger-00. Danish(veteran), Hungarian(veteran), German(veteran), German(club, veteran), International, German, German(club), Swedish, Finnish and Danish champion. 1 veteran-CC in France, 1 veteran-CC in Slovakia, 2 CC in Switzerland and 1 CC in Holland.
Berit has been shows 162 times in veteran class in Sweden, Denmark, Germany, Holland, Hungary, France and Slovakia. She has won BOB-veteran 157 times and BOS-veteran 3 times, two of them at the WW-08 and EuW-08.
World(veteran) Winner -08-09-10-11. BOB-veteran 3 times in a row.
Berit has been placed in BIS 94 times and she has been selected BIS-1-veteran 39 times.
In 2010 Berit became BIS-veteran at the Swedish Champions of Champions & Veterans of Veterans, for the Italian judge Claudio de Guiliani. Berit is the only bichon that has won this presigeous show in Sweden.
Berit has also won: Most winning veteran nr 2 all breeds in the Danish kennel club 2007. Most winning veteran nr 2 all breeds in the Danish toy club 2007. Most winning veteran nr 4 all breeds in the Danish kennel club 2008. Most winning veteran nr 3 all breeds in the German toy club 2008. Berit was BOS and BIS-oldtimer at the Bichon Specialty in 2012, at 13 years of age!
Berit has had 5 litters with a total of 30 pups and 20 of these are champions, 5 has been shown winning CC/CC-quality and 5 have never been shown.
Berit has competed with a progeny class 20 times and has been placed in BIS 18 times. Of the 18 BIS placements 9 are as BIS-1.
At the European Winner show in Budapest 2008 Berit's progeny class consisted of offsprings from 3 different countries. The group was BIS-2!
It all came to an end…. May 10th 2015 Berit was put to sleep.
Our sweet queen has left us and our home is so empty! We do miss this little one a lot. Now it's so quiet… No barking for fresh water for the 100th time a day, no barking to go out and to be let in 10 seconds later, no barking for full attention, no barking at all… At the same time we were so fortunate to have this special girl in our lives for so long. She has always been happy and healthy and loved life to 100%. She had the body and energy of a young dog until the last couple of months. And during the last week and day it all went downhill very fast…
Life will not be the same without her because she has always been there and very confident taken her place in our lives. A place she took already as a newborn and as the only puppy in the litter. She has enjoyed life to the full both at home and at shows. She absolutely loved to go to shows and barked of joy as she went around the ring.
So thank you Berit for 15,5 remarkable years, it will not be the same without you.
Ch Hardy-Flap's When Trumpets Fade, she was one of a kind.
Love you and miss you…..
This video was made as a Happy Birthday greeting for Berit last November when she turned 15 years old. Well, this amazing girl participated in 2 more shows after her birthday, where she once again took BOB-veteran. But now it all has come to an end. RIP Berit.