The weekend 11-12 October we went to 2 shows in Denmark. We had lots of fun and also some nice results in the showring!
Our sweet Russian puppy Sonya, Kuner's River Of Dream, was BOB-puppy both days. In the finals she was BIS-4-puppy on Saturday and BIS-2-puppy on Sunday.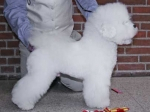 The grand old lady Berit had a great time, winning BOB-veteran both days AND at her 160th show in veteran class – she was also BOS! On Saturday the judge asked twice about Berit's age, he wasn't sure he heard correct the first time… Well, Berit was BIS-2-veteran at almost 15 years of age!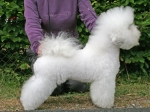 We also got a new champion! Glory (Royal Frise Glory) was second best bitch on Sunday and thereby became Swedish and Danish champion! So lovely and congrats to breeder Diana and co-owner Ann-Kristin!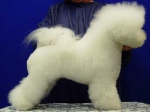 We also had Svante with us, who competed in champion class, and Frank, who was 4th best male on Sunday and thereby got r-CC. Kia competed in champion class and was 4th best bitch on Sunday. Evelina and Sonya made their debut in juniorhandler and they really did so well!
Thanks to everyone for a lovely weekend!